Have you ever used serum foundation for oily skin? Now, they have become one of the popular daily makeup routine products. But what exactly are they, and why should you use a serum foundation? Well, let us tell you.
Serum foundations combine the hydrating benefits of serums with the coverage of foundation to give you refreshed and flawless-looking skin. And who doesn't want that? In this blog, we are going to discuss why you should consider switching to serum foundation. Further, we will also guide you on where to buy the best serum foundation online.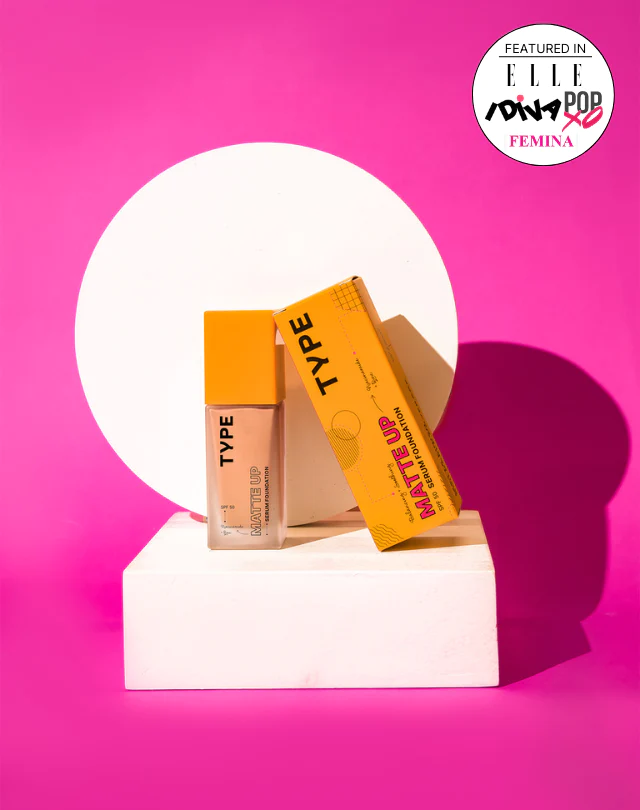 ​
Natural dewy finish
Achieving a dewy makeup look can be tough. Sometimes, you end up looking like you just finished running a marathon instead of looking dewy and fresh. But with serum foundation, you can achieve that natural dewy finish that runway models have. The light reflects off the high points of your face to give you that glassy finish that everyone is after.
Doubles up as a skincare product
Skincare routines can be tedious, but you can skip a step or two with serum foundation. To maximise your foundation results, buy Type Matte Up Serum Foundation to get rid of oily and acne-prone skin magically. The Type Matte Up Serum Foundation is loaded with Zinc and niacinamide, so you don't have to worry about breakouts or clogged skin after wearing the foundation. Popular as the best serum foundation for oily skin, Type Beauty products always offer a win-win situation.
​
Hydrates skin for 24 hours
Niacinamide is a miracle ingredient in keeping your skin smooth, reducing dullness, balancing oil production and preventing acne. And that's exactly what the serum foundation does! It locks moisture into your skin, leaving it plump and smooth for 24 hours. And if you're worried about sweating it off, don't be! It's sweat-proof and transfer-proof, making it perfect for an everyday look.
Suitable for all skin types
The niacinamide in the serum foundation not only soothes inflammations and acne, but also defends your face from pollution and UV rays. It can even out your skin tone and make it brighter by reducing blemishes. So, it's perfect for sensitive, acne-prone, dry, and oily skin types.

​
Lightweight
Foundation can be tricky, especially if you're going for a natural look. But with serum foundation, you can achieve that natural finish without worrying about it looking too cakey. The lightweight formula gives you the necessary coverage without feeling heavy on your skin.
Matches your skin tone
Finding the right foundation shade can be a daunting task, especially if you have cool or warm undertones. But don't worry; Type Serum Foundations has got you covered. It comes in 24 shades for each intensity and each undertone, so you'll definitely find the perfect match.
Medium to full coverage
Do you need a heavy-duty foundation for a special occasion but also want something lighter for everyday use? Type Serum foundation has got you covered! It's buildable, so you can apply a little for medium coverage or go all out for full coverage. And the best part? The shade in the tube is the same colour on your skin, so no more surprises when you buy a foundation from Type Beauty.
Type Beauty offers:
Get Even Serum Foundation For Dark Spots And Dullness.
Matte Up Serum Foundation For Oily And Acne Prone Skin.
Decrease Serum Foundation For Fine Lines And Wrinkles.