Do you want to plan a luxurious holiday at a resort close to Gurgaon? Enjoy your weekend at these luxurious resorts close to Gurgaon and enjoy an unwinding break from the crowded, noisy city. You can visit the resorts along with kids, family or friends, and enjoy an extravagant stay and unforgettable experiences.
1. The Lalit Mangar – Dera Mandi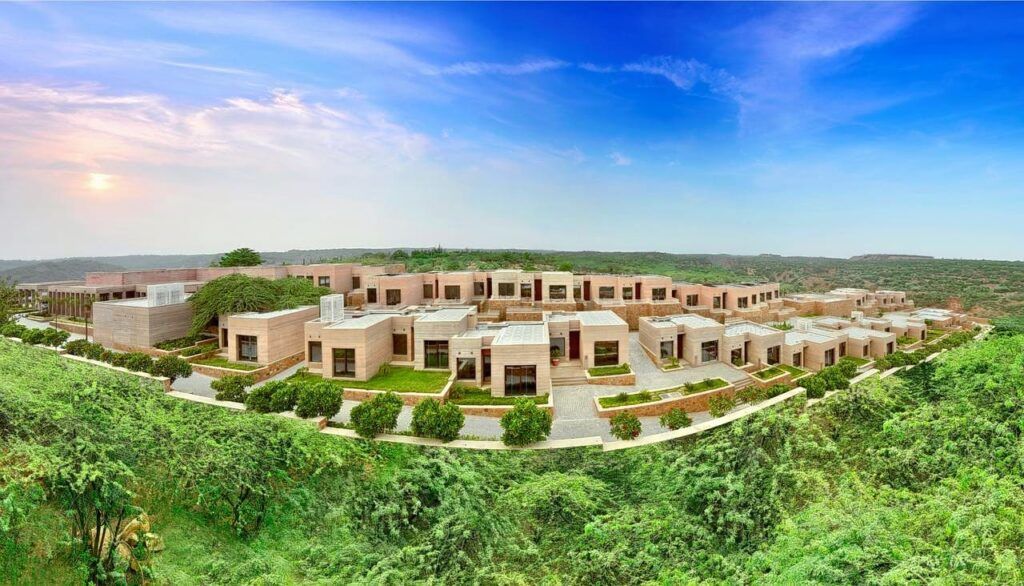 Have you ever thought about what an oasis would look like? Go to The Lalit Mangar in Faridabad and discover what it is all about! It is located in The Mangar Bani Valley and housing more than 6 lakh trees over the area of 677 acres. The five star resort is an enviable forest grove that has stunning earthy ambience. It is one of the top resorts close to Gurgaon for families. Alongside having an amazing natural location, the resort offers a variety of recreational activities, including climbing rocks, rappelling, cycling, well-planned picnics as well as village tours and an amazing Time Reversal Spa. The resort has just officially opened to public, and the outdoor-loving population in NCR has already recognized its resort one of the top places to spend a weekend away from Gurgaon.
2. Baghaan Orchard Retreat – Kachraut



Baghaan Orchard Retreat is one of the top resorts in Gurgaon to couples. One of the top luxurious resorts in Delhi are the Baghaan orchard Retreat hotel, which is nestled in the lush green areas close to Gurgaon offers precisely what they promise: a retreat to the natural world and a luxurious escape from the bustle and noise of the city. This paradise, is surrounded by colorful orchards and beautifully manicured lawns offer the best of both nature and comfort but also a bit of excitement with activities like archery, rappelling and bullock cart rides and Dolphin Sightseeing on the Ganga and, obviously, the enormous swimming pool! One of the most prestigious resorts in the vicinity of Gurugram, Baghaan houses 25 well-designed cottages and is therefore a treat for all nature-lovers as well as adventure-seekers and birdwatchers!
3. Pataudi Palace Neemrana – Pataudi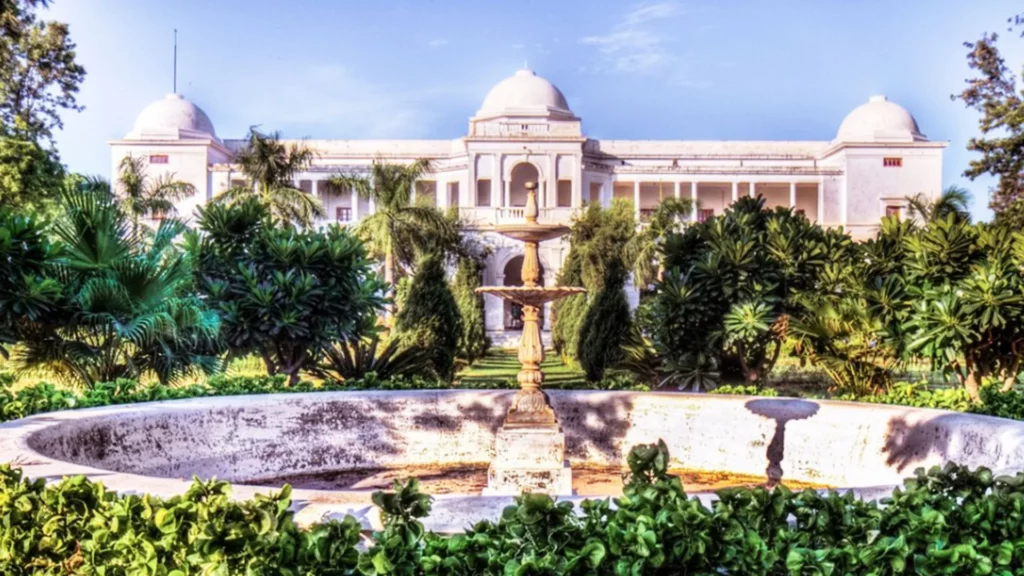 With a total area of 10 acres the original palace of one of the Nawabs in Pataudi was formerly operated as a luxury hotel. We have learned that the palace's downright elegant model of colonial architecture is currently getting a revamp to become the top resort in Gurgaon under the direction of the current and tenth Nawab of Pataudi the actor Saif Ali Khan. "I'm seeking simplicity and comfort rather than extravagant and lavish. I'm very excited about transforming the library, replacing my grandmother's fireplaceand making the ceiling an Zodiac night-sky" was what he said to the media after promising to transform the place to one among the top fashionable traditional resorts close to Gurgaon for day trips.
4. Neemrana Fort Palace – Neemrana
One of the most luxurious hotels near Gurgaon to enjoy a picnic on a sunny day and there's a good reason why Neemrana Fort Palace holds a place in the heart of urban dwellers everywhere! With exquisitely constructed rooms and suites, with extravagant interiors and astonishing design, this 15th century heritage hotel gives guests a distinct luxury experience to live like the royals of Rajasthan used to do. In addition to its stunning design, which is encased in the seven wings of palaces, six acres of gardens that hang with two pools and royal banquets, Neemrana Fort Palace also is one of the top luxury resorts in the vicinity of Gurgaon for weekend getaways and also its Ayurvedic spa as well as India's first zip line!
5. Heritage Village Resort And Spa – Manesar

Heritage Village Heritage Village is one of the top resorts in Gurgaon-Manesar. The Rajasthani Haveli transformed into a resort at NH 8 is a delight for anyone looking for a short and refreshing break. The resort is set in greenery This spa resort in Gurgaon for weekends is an exquisite combination of vibrant colors, traditional, Indian ethnicity, flamboyance and never-ending luxury. In addition to being known for its Spa Aruna, Heritage Village Resort and Manesar Spa Manesar is also well-known for its gorgeous interiors, spacious suites that are well-equipped, its extensive variety of dining options and as a great location to hold weddings, as well as other large occasions, making the resort one of the most glamorous luxury hotels near Delhi.
6. ITC Grand Bharat – Hasanpur Tauru
Luxury resorts are everywhere as well as resorts that are ultra-luxury such as the ones that enthral you and makes you want to leave! The ITC Grand Bharat is one of these places. In the lush greenery of the Aravallis the resort is the first luxury all-suites retreat and , consequently, one of the finest 5-star hotels in Gurgaon for a picnic on a day. If you're looking to discover the true meaning of royalty take a stroll through this sprawl across 1.2 square miles that has 100 suites, four Presidential villas, a unique 27-hole Jack Nicklaus designed golf course amazing dining experiences, as well as recreational and wellness services, including the renowned spa brand of ITC Kaya Kalp. It's one of the most desirable destinations to spend a relaxing time near Gurgaon.
7. Camp Wild – Dhauj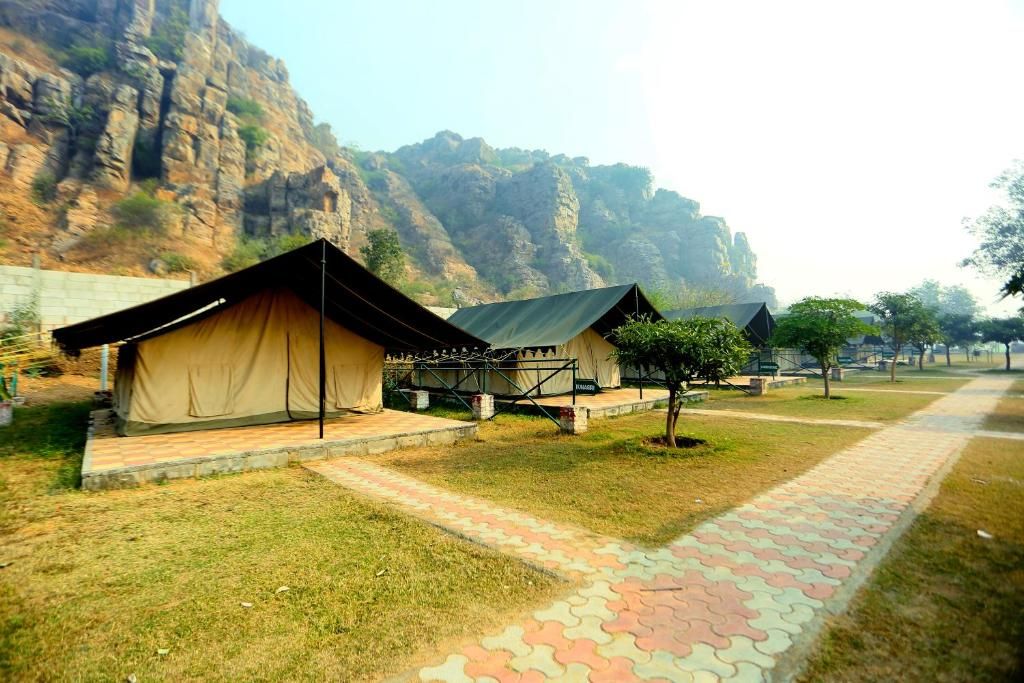 "Wilderness at Lake Dhauj" or WILD is one of a kind resorts in the area of adventure camp cum around Gurgaon that offer the comfort and luxury of a hotel and the pleasures of adventure and nature. It is ideal for those who want to experience an adventure-filled environment in the pure natural environment and also enjoy lavish amenities and services such as dining and rooms. The Faridabad's Camp Dhauj has 15 Deluxe Eco-Lodges as well as 15 Safari Tents within an area of 12 acres. It is one of the top resorts close to Gurgaon offering activities like rock climbing, rappelling cross-country skiing, trekking flying Fox, eco tours, village safaris, and much many more. This is a feature that puts it on the list of each thrill fan's favorite resorts close to Gurgaon. In addition, its team building activities are a huge event for corporate weekends. Camp Wild is one of the most popular resorts close to Gurgaon to host a team-building event.
Gurgaon also known as the Gurugram is rapidly growing into a city. With rapid metros, metros, metros as well as multi-national office complexes malls, and smart residential communities, this city is getting lots of interest from both the government and public. Here are a few of the top hotels in Gurgaon to discover during your time on the streets of the city.
8. The Taj Gateway Resort Damdama Lake – Damdama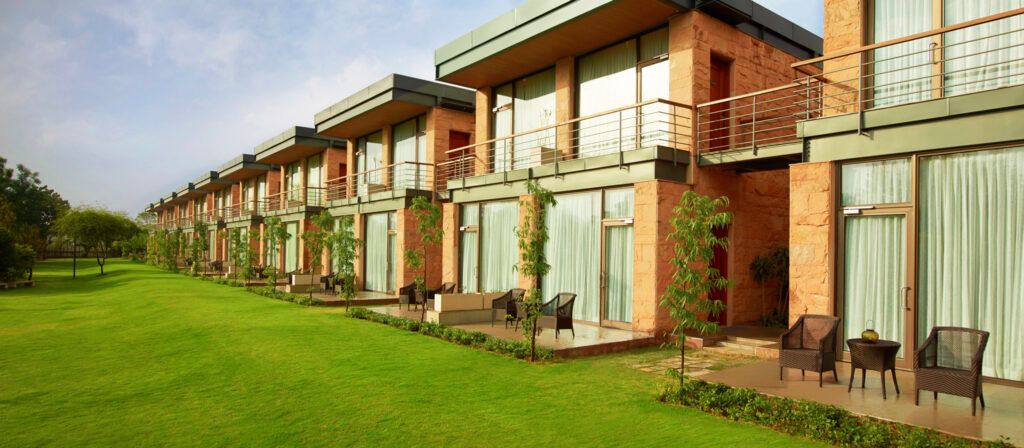 Hidden away in The Aravalli Hills and sprawling over an area of around 20 acres. The beautiful resort is the ideal option for those seeking the perfect blend of luxury, nature, and romance! It is home to five large banqueting areas (ballrooms and banquet lawns that are made for all sorts of corporate and family gatherings) and the most stylish interior and décor and a huge pool playground for children, and endless lawns and lawns, the Taj Gateway Damdama Lake is one of the most luxurious resorts located in Gurgaon and just 45 kilometers far from the Delhi IGI Airport. So, if you're looking to experience the beautiful beauty of Aravalli ranges This resort is one of the top nearby resorts located in Gurgaon.
9. The Oberoi – Udyog Vihar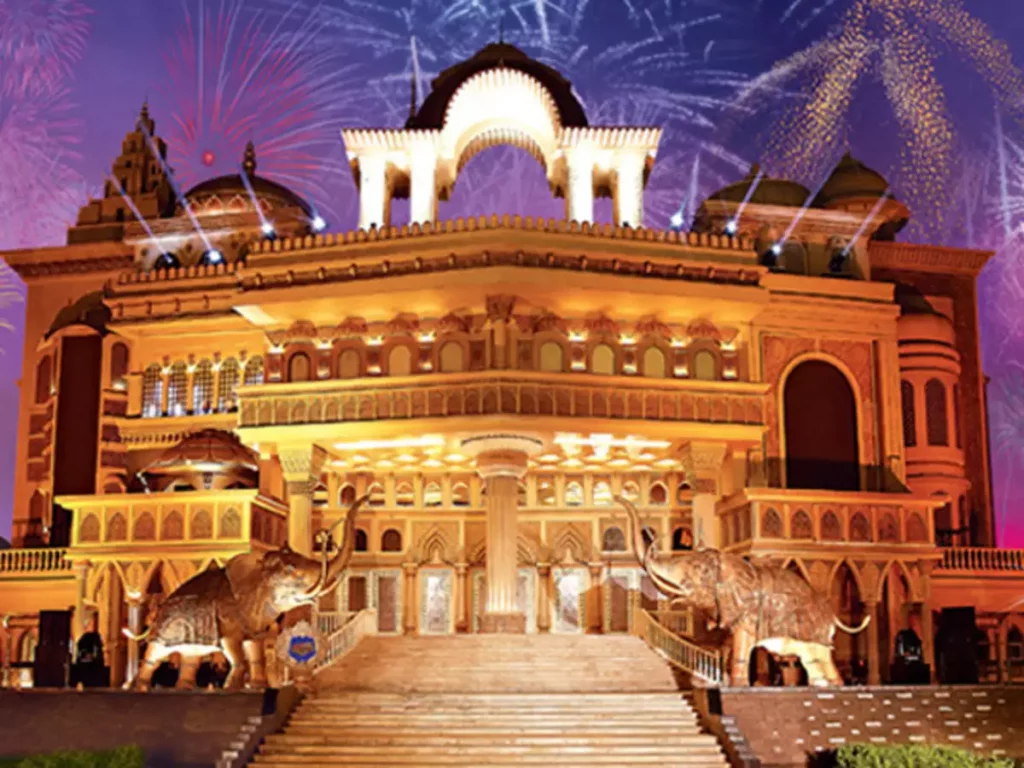 With its stunning design and world-class architecture This is one of the luxurious luxury resorts that have won awards near Delhi that exude royalty at every turn. The luxurious property spreads over 9 acres , and features a distinctive style, high ceilings, vast open spaces that let in plenty of sunlight, a stunning reflection pool, stylish bar, Lounge, as well as three kinds of stylish dining areas that offer a wide range of dishes are certain to win your heart! The guests can also benefit from the spa's incredible services, visit of its stunning art gallery, relax in the salon, or indulge in the shopping addict within you in its luxurious shopping arcade. If you're looking for luxury, style and luxury, The Oberoi is counted among the top accommodations in Gurgaon and across Asia!
10. The Westin Sohna Resort And Spa – Sohna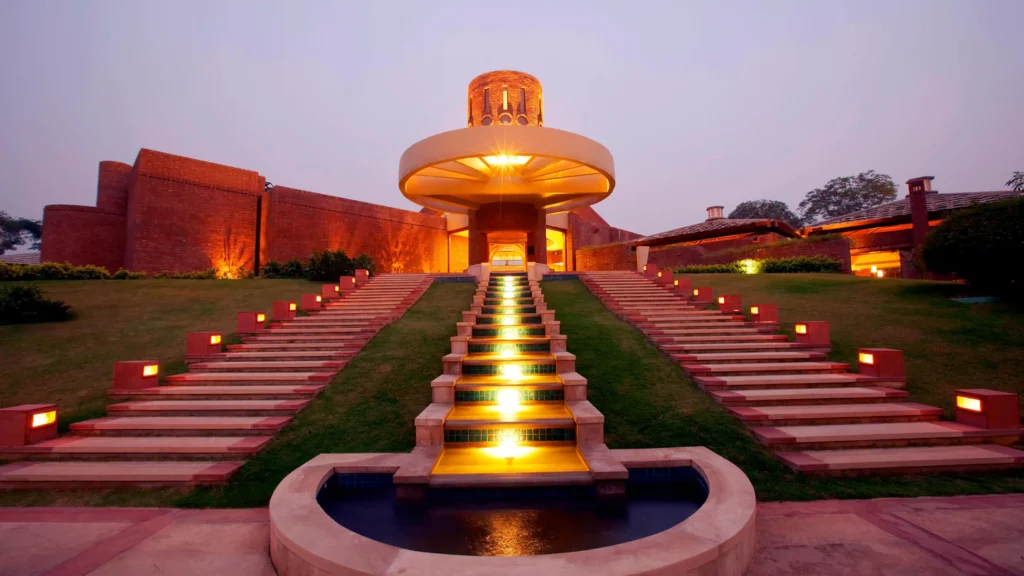 If you believe that one is unable to find a tranquil area within Gurgaon that is lush and green that is quiet from the bustle from the city's metro, then you should visit Trident and prove you wrong! The hotel is situated in the central area of business in the bustling urban area that is Gurgaon, Westin Sohna Resort & Spa is one of the top resorts located in Gurgaon for group outings or corporate occasions. The resort covers an enormous 37 acres of landscape, the hotel offers an endless array of luxury amenities for guests who want to unwind and relax such as The Heavenly Spa with Westin and it's Westin WORKOUT Fitness Center, a variety of eating options, the beauty of lush landscapes all around, and modern, elegant architecture and design. It's also one many of the sought-after resorts close to Gurgaon to enjoy weekends.