During Covid-19 Penademic, when everything was shut due to lock-down, people shifted to OTT platforms in their spare time for entertainment. Now it becomes a habit of people to watch their favorite shows on OTT. While watching shows or movies we all need some snacks to enjoy our showtime. According to a study, Doritos Nachos is a perfect snack that people enjoy while binge-watching their favorite shows.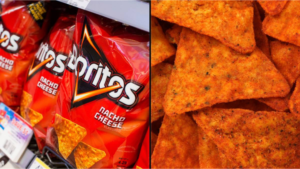 Want to enjoy the different flavors of crunchy Doritos nachos? We have a list of some of the popular imported flavors of Doritos that you can buy online and enjoy with various dips such as cheesy dip, Doritos mild salsa dip, jalapeno dip, etc.
Doritos Spicy Nacho
The perfect combination of spices and cheese, Doritos Spicy Nachos are best for a new snacking experience. A hit of spices and a unique flavor of cheesiness are combined together in the spicy flavor of Doritos Nachos which makes it an unforgettable mouthwatering flavor.
Doritos Nacho Cheese
The teeth-rattling crunch and strong flavors compel you to grasp the moment and unleash your boldness. Grab a bag of Doritos nacho cheese and get ready for the adventure of cheese flavor that you will experience while watching your favorite movie. It's a daring snacking and dining experience.
Doritos Flamin Hot Nacho
Doritos Flamin' Hot Nacho with spicy-cheesy flavor combo is like a fire. These crunchy chips are covered with the red dust of spices that make you lick your fingers. These Doritos nachos are much like other flamin' hot treats available in the market. You might only be able to handle a few if you're a spice wimp, but if you can handle the heat, prepare to devour half the bag.
Doritos Flame Grilled Steak Nacho
Are you sick of eating the same snack over and over again? When it comes to adventurous munching, we are here to give you a new taste. With Flame Grilled Steak flavor of crunchy tortilla chips, you can get a whole new snack time experience. This flavor is ideal with a full-on crunch and a selection of sizes for every occasion.
Doritos Stax Ultimate Cheese
Doritos Stax is the ultimate sharing snack for hungry movers and shakers, with all the bold taste and distinctive crunch you'd expect from your favorite snack. You'll not only be able to grab your favorite stacking snacks to share while watching a movie with your friends or family with the new Doritos Stax tube design, but you'll also be doing the earth a favor with its excellent recyclable design.
Doritos Nachos BBQ
Doritos Nachos BBQ flavored tortilla chips deliver a mind-blowing explosion of flavor. This powerful barbeque flavor is a perfect blend of sweet and savory tastes filled in each bite.
Conclusion
So, these are some of the imported flavors of Doritos Nachos that you can enjoy while watching your favorite movies or shows alone or with your family or friends. You can order these flavors online from Snackstar. Snackstar is an online e-commerce platform providing imported snacks from all over the world in India. You can now enjoy the taste of abroad right from your home with a single click.